name: Nara
gender: female
rank: Alphess
pack: River Pack
sexual orientation: Males
age: Nara is almost four
breed: Not entirely sure... she's a big mix.
eye color: Ice Blue, almost Purple
pelt color: Sandy yellow, or Tan
markings: Scars on her shoulder
height: 33 Inches
weight: 70 Pounds
overall appearance: Nara is a sandy colored wolf, only a little bigger than average for a fae. Her days as Alphess have left her with curved scars on her shoulder, and she is pretty muscled. She has white undertones in her fur, and normally wears a proud and elegant expression, standing tall. Her blue eyes are kind and warm, but there's sadness behind them.
family: A father and mother, named Streak and Nala, who both died. She had a brother named Flint, and a sister named Swift, but they were killed as well.
friends: Timber, and some others that aren't here
enemies: nope.
crush: ha. very funny.
mate: nopez
pups: They're cute... but no. Not at all.
history: Nara was raised as Alphesses daughter until one year old, when the pack was killed off by another. Angry and scared, little Nara wandered around the lands, as a young loner. She learned to fight and hold her own, starting her own pack at the age of two. Now she has left them, leaving the wise Elder in charge, to come look for her lost Beta. After coming here, she receives news of the pack may or may not have been destroyed... She is unsure of what to do, leaving this territory to go back to ruins, or stay here with the only friend she has left?
name ;; Timber. Just Timber, no fanciness
   aged ;; Timber would be about three and a half now
   ranked ;; Beta
   so;; She likes Males
Red wolf
   Pack;; River pack
   weaknesses ;; (must be at least three sentences). Water is a big fear of Timbers, she'd rather jump off a cliff than splash in a creek. Something about Timbers mind just hasn't clicked yet, so she still acts like a pup. This meaning she chases her tail and if someone asks her to play she'll be as happy as a bug in a rug. So, playing is a kinda weakness. Knowing what is right is hard for her, meaning she often gets into fights. Listening and Sitting still is hard for her also, being not at all patient.
   strengths ;; (must be at least three sentences.) Timber is completely loyal, and would run a swim across a river if it meant saving a friend. She is also almost a dumb amount of brave, sticking up for wolves, or cougars, to others who could easily kill her. She has a strong heart and does not go down without putting up a fight.
   habits ;; Trying to make peace, or standing up for friends, and basically trying to make everyone feel good. Though in some cases it doesn't quite work.
   fears ;;  Well, water for sure, given her past. Another is one day she'll find out everyone hates her, but that's more like a brain thing. Overall she's just a bad luck wolf, so she fears one day she'll mess up and hurt someone, like, badly.
   coat color ;; A dark Reddish brown with little flecks of black on her back. She has a lighter tan or white undercoat. Little flecks of white also around her paws, but normally wolves wouldn't look at her paws so that doesn't seem to matter, does it.
   eye color ;; A bright green, sometimes looking blue.
   physical structure ;; Timber is small, even for a fae. She has slight muscles making her more prone to losing battles, the reason she's a healer not a warrior. She has strong legs, though, making her able to run fast. The smaller figure makes it easier to be agile, but not to take down prey.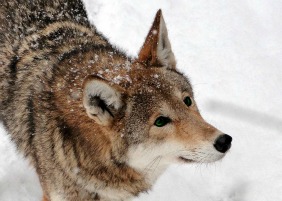 family;; Father, Lightning, Alive and coming

. Mother, Nightmare, Murdered by daddy, so dead. Brother, Pine, dead too!
   friends;; Nara
   enemies;; None yet...
   crush;; Little Timmy with a crush? Nah.
   mate;; I'm laughing so hard right now...
   children;; nahp. No way, no how.
   history;; (must be at least 100 words.) A long time ago, not long after she'd opened her little green eyes, her father decided to drop in for a visit. Basically, finding out it was a fae, he was outraged. He took her from Nightmare, snapping at her angrily when she tried to protest. He left her on the riverbank for dead, but her brother followed quietly, and took care of her in secret, until his mother found out. She wanted her pup back, but wasn't entirely sure how to do it. In the end, she decided to give Timber a scar. Crazy, right? But she'd done the same to Pine, which had great effects even though Lightning still wasn't sure. Lightnings father, or mother, or something else had slashed at him, accidentally giving him a odd shaped mark one could almost describe as lightning, he decided he was a god and that would be the mark of a powerful wolf. After little Timber had suffered, Lightning had still taken it the wrong way. Now his sick mind believed she was too dangerous to live, stealing her away one night. Pine, now older and stronger, followed his father and sister, confronting him in battle before he could kill her. Pine got the pup, racing away, but Lightning followed soon after when he asked Nightmare to help or he'd kill Pine. Pine was Nightmares pride and joy, so she agreed warily. Pine and Timber were cornered at the rivers edge, as the parents advanced angrily. Pine didn't waste anytime in turning around and jumping into the raging river, holding Timber in his mouth. The parents followed, but halfway through they both went down under the current. Pine flung Timber onto the riverbank with a final ounce of strength, where she just sat for a while in shock. A loner came along later, introducing himself as Frost, but he didn't live much longer. She is ever grateful to him, that elder helped her live to age one, where she met up with another pack. Once two years old she was pushed out, because the alpha she thought was her friend blamed her for the pups dying. Alone, she found her way here. (Lightning ended up killing Nightmare after she'd gone crazy in belief Pine was dead. He took a new mate and is now probs coming after his daughter, but oh well.)
Last edited by NotSoSure on Fri Oct 24, 2014 9:28 pm; edited 2 times in total