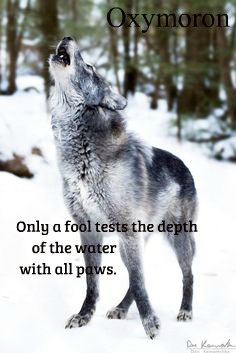 name: Oxymoron, nicknamed Oxy.

gender: Female//Fae//She-wolf.

rank: Warrior.

pack: Midnight Pack.

sexual orientation: Tends to drift towards males.

age: Two 1/2

breed: Northwestern Wolf.

eye color: A dark shade that's relatively hard to place.

pelt color: Blue-grey.

markings: Nothing special. She looks relatively normal.

height: 30 Inches .

weight: 103 pounds on average.

overall appearance: Her blue-tinted pelt blends into the darkness relatively well, reasoning for her joining the Midnight Pack. In grass, however, she stands out like a sore eye. Her eyes are hard to describe, but have been called colors such as dark brown, dark grey, and emerald. Depends on the lighting, really. Her stature is muscled, although not "buff" as they say. She isn't built for tank-style fighting, more for sneaking up on an enemy attacker.

family: She's an only child, so no siblings, although surprise surprise, she had parents. Her mother was a tough grey-pelted wolf named Perception, and her father was a skittish wolf who went by the name of Marker.

friends: She's seen other wolves in her pack before, and would consider them allies in a fight. Juniper is an good friend, but not someone she specifically trusts.

enemies: A few. She's fought many wolves who would love to see her head, y'know, not on her body. She doesn't hate anyone in particular, though. Yet.

crush: Probably will end up with one in RP after a while, but not to start out with.

mate: Now this is unlikely.

pups:  Not at the moment, no.

history: Oxymoron had a normal birth, no ray of light from the heavens, or shattering death immediately after. The name was given to her by her mother, Perception, because it sounded "proper." Marker was okay with this, and also okay with not getting his head bitten off, which would be the likely story if he suggested the name "Song" that he personally wished. She was born in a different pack, that went by "Essence." Essence was all about order, dignity, and respect. In order to get respect, you needed to have dignity. In order to have order, you needed respect. In order to have dignity… well, that wasn't something as easily gained. It was fought for, through surviving punishments, winning battles, and being right. Perception was the pack's main warrioress, and expected Oxy to be the same someday. She needed something to prove that she could raise good, strong fighters for the pack. Instead of having a full litter of pups like a normal female, she only had one. No defects or anything, but still, not perfect. Oxymoron grew up, opened her eyes, and begun training all under her mother's watchful shadow.
   In Essence, at the age of six months, a pup was allowed to choose a future. Oxy would have liked to train to be a seer, an alarm guard, or runner to bring the wounded back from battle. Instead, because of a threat to have her throat clawed up, Oxymoron began training for soldier life. It wasn't hard or anything, she took to it well and all, but there was still the voice in her head that sighed every time the runners went by, practicing. She wanted to be like that, and instead turned into a war machine. Her mother was very proud, of course, and showed off her daughter's skills regularly, in setting up fights between soldiers in training. Marker, her father, became more and more distant in her life, at the same rate as her skills progressed. By the time she was a full year old, she only caught glimpses of the jittery wolf running in time with the others of his rank.
   Oxymoron didn't make many friends growing up, as inevitably, she was just going to have to face them in one of her mother's "friendly tussles." While these weren't fights to the death or anything, it still made others resent her. She won, again and again, and would do nothing about it. As much as she wanted to be liked by others, she also really wanted both ears. Her mother being her only company for most of her months, it soon became time for Oxymoron to go to the field. To be what she was trained to be; A Good Killer.
   All did not go as planned. An enemy pack was attacking from the North-east, that was the newly-trained wolves to fight. Soldiers, Runners, Medics, and some others who were only there to watch, all assembled near the clearing where the fight would take place. Everything started out normal, knocking down foes, and fighting with her packmates. Blood was spilled, lives were taken. Usual battle. A cry for help sounded out here or there, and was most often ignored. There was no time to help stragglers; this was war. But still… From a while away, Oxy heard the yelp. She knew it well, it was her father's. Marker was pinned beneath a large brown wolf, and was writhing in pain. Runners weren't supposed to get hurt. Although it was always a possibility… it was a soldier's job to risk their life. A runner was their to drag away the fallen body, so that others didn't trip and bloody their paws. Oxymoron leapt at the attacker, knocking him aside, so that her distant father could run.
   However, he didn't. He stuck out the battle, attacking the wolf with her, as a team. It ran off whimpering, where the two faced each other. Marker, who was a little bit shorter, spoke first. "Thank you. I… I wish I could do the same for you, but I need to get back to work… or, or… run." Oxymoron nodded in agreement. Someone must have seen him get hurt, and that was punishable. He had messed up, and needed to hightail it out of there, before the leaders finished the job. The wolf watched as her father disappeared into the woods, never to be seen by her again. Who knows if he even survived the night. Lost in thought, having the numb farewell of officially losing her father, Oxy was a clear target. The attackers knew, and she was brought down.
   Don't move.
   Somewhere, instinct kicked in.
   Play dead. They'll give up.
  It was cowardly, and a shameful thing to do, but it worked. She was left alive, lying on the battlefield. A runner came and began to drag her away, at which point she made a break for it. Into the woods, away from the mother who would cut off her tail for the act, away from the Runners, who she couldn't be. Towards what? Well. That's an entirely different question.
Last edited by Oxymoron on Mon Jul 20, 2015 3:34 pm; edited 2 times in total